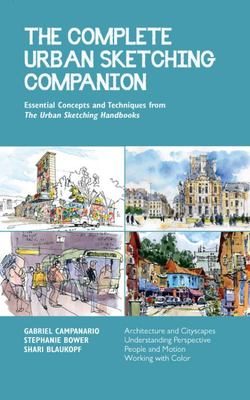 $39.99
NZD
Category: Painting & Drawing Manuals | Series: Urban Sketching Handbooks Ser.
Draw the exciting elements of your world with confidence using the tips, techniques, and ideas in The Complete Urban Sketching Companion. Packed with information and visual inspiration on sketching architecture, cityscapes, people, and motion, plus lessons on perspective and adding color, this collectio n will have you filling sketchbook after sketchbook with compelling artwork. The popularity of the urban sketching movement has grown worldwide, and it's easy to see why. Sketching on the go is exciting, rewarding, and creatively satisfying. With so many choices of what to sketch and how to sketch it, you need a companion to offer valuable insights, enlightening tips, and tons of ideas and inspiration. The Complete Urban Sketching Companion is that helpful guide to take along on your next overseas adventure, or to your favorite caf around the corner. This book includes key drawing techniques and strategies from four books in the Urban Sketching Handbook series: Understanding Perspective, Working with Color, Architecture and Cityscapes, and People and Motion. Learn how to draw unique buildings, urban landscapes, and lively street scenes, incorporating interesting elements and striking color and lighting. Get tips on sketching with accurate perspective with easy methods and great examples to guide you along. Discover ways to capture motion, whether it's a group of dancers or commuters on the move. Become confident in adding color to artwork by learning about different mediums and color mixing techniques. In The Complete Urban Sketching Companion you'll also find: Simple tools and materials to get startedWays to build a well-composed sceneTechniques for drawing urban environments to scaleHow to construct a sketch in layersTips for rendering different types of perspectiveStrategies for creating dramatic shadowsHow to include a range of color values to create depthIdeas for interpreting movement and gestureMethods for drawing individuals and crowds Get started on your urban sketching adventures today, and start capturing life. ...Show more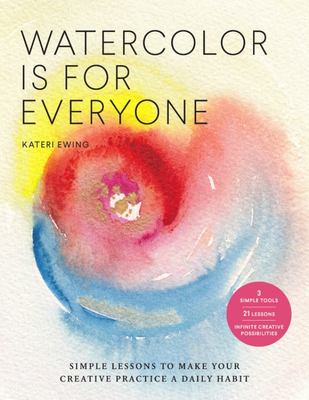 $39.99
NZD
Category: Painting & Drawing Manuals | Series: Art Is for Everyone Ser.
Watercolor Is for Everyone guides you through 21 intuitive, process-based painting lessons that help you discover your own unique artist-within while creating works of beauty you will joyfully send out into the world to share. In this beautiful book, artist Kateri Ewing, author of Look Closer, Draw Bet ter, guides you through a series of simple creative projects using a soulful, meditative, and reflective process. Whether you're picking up a paint brush for the first time or are an experienced artist, you'll discover and deepen your creative potential through these exercises, because everyone can make art. Each project results in two art pieces, one to keep for yourself, and then another one, such as a postcard or mini painting, to share with someone else or send out into the world, to spread their color, creativity, and joy in new places. With Watercolor Is for Everyone, you can learn how to build a daily practice and how to set intentions and create, even if you have just 10 minutes a day. The projects draw inspiration from poetry, music, literature, and the natural world, and invite experimentation with a variety of sources, from tarot and oracle cards to rocks and feathers. You'll pursue your personal passions through accessible projects as you build your artistic skills, confidence, and creativity. ...Show more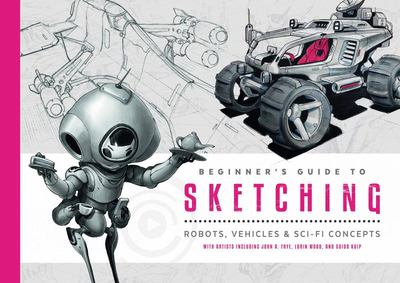 $83.99
NZD
Category: Painting & Drawing Manuals
Following the success of Beginner's Guide to Sketching: Characters, Creatures & Concepts, 3dtotal Publishing presents readers with another fun, inspiring book on traditional sketching, with a focus on sci-fi themes. From robots and spaceships to buildings and aliens, Beginner's Guide to Sketching: R obots, Vehicles & Sci-fi Concepts is an informative starting point for any sci-fi-loving beginner artist who needs an introduction to traditional drawing and rendering techniques. Richly illustrated tutorials by industry professionals will guide the reader through learning a wide range of drawing tools, the basics of lighting and perspective, creating different rendering effects, and how to create sci-fi concepts that are both convincing and excitingly futuristic. ...Show more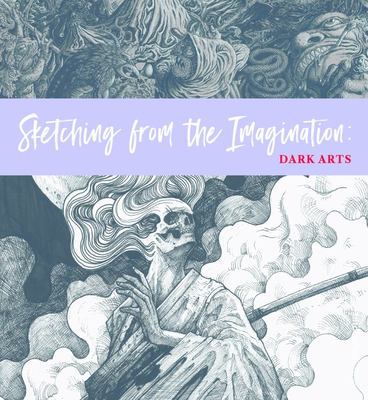 $69.99
NZD
Category: Painting & Drawing Manuals | Series: Sketching from the Imagination Ser.
Sketching and drawing are fundamental to creating great art; the simple doodle is often where the artist first brings their ideas and concepts to life. InSketching from the Imagination: Dark Arts, we have gathered together fifty talented traditional and digital artists to showcase work from their sketc hbooks, share inspiration, and give insight into how they create imaginative and dark illustrations. Featuring a range of artwork and artists from many fields, from concept design and animation to illustration and comic art,Sketching from the Imagination: Dark Arts is a collection of beautifully macabre sketches with plenty of useful tips and creative insights--an invaluable resource that will inspire artists of all abilities. ...Show more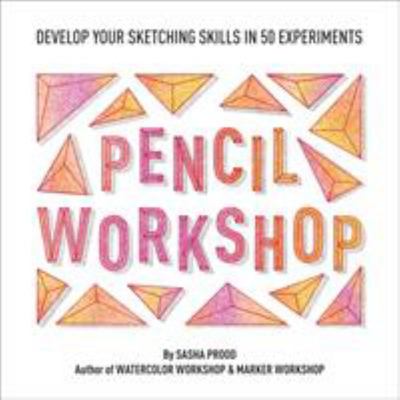 $39.99
NZD
Category: Painting & Drawing Manuals
Explore the creative possibilities of the artist's most accessible tool--the pencil Never has the humble pencil--the most readily available and affordable of art supplies--produced such exciting and sophisticated effects. In Pencil Workshop, author and artist Sasha Prood brings a sense of experimentati on and fun to sketching with graphite, colored, and watercolor pencils. Through 50 different experiments, you'll learn traditional techniques like hatching, contouring, and stippling; develop your skills by creating compositions; and try out the unique effects that you can achieve with blenders and water-soluble pencils. This unique instruction book is structured so that you have space to do pencil test swatches and draw directly on the pages next to the author's examples. Pencil Workshop provides everything you need to explore the limitless creative potential of this versatile medium Special Features Full-color illustrations throughout Paperback with lay-flat binding Check out the other books in this series: Watercolor Workshop, and Marker Workshop. ...Show more
$37.99
NZD
Category: Painting & Drawing Manuals
Learn how to invest your watercolour landscapes with character and ambiance that will lift them out of the everyday into something extraordinary. Barry Herniman shows the reader how to capture the essence of a scene, and to inject that extra something: mood and atmosphere. This 'extra something' is what many watercolor artists seek, and it is clearly explained and beautifully demonstrated in this practical and enthralling guide to painting a variety of landscapes. This beautiful title brings Barry Herniman's stunning artwork to the fore with a sumptuous redesign. ...Show more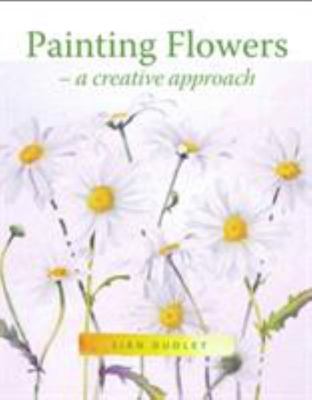 $42.00
NZD
Category: Painting & Drawing Manuals | Reading Level: very good
A brand-new edition of the world's most widely used drawing instruction book, expanded and updated with more than 50 per cent new material. If you enjoy sketching but feel stuck at a childlike level, this classic handbook will give you the drawing skills you have always wanted. If you are already drawin g as a professional artist, it will improve your confidence and deepen your artistic perception. As well as giving detailed advice on how to draw anything you want - including ways to step from black-and-white into colour - Edwards exploits recent developments in brain research to show how drawing skills can be used in the corporate world, in education, and even in problem-solving. Since it first appeared more than 20 years ago, this book has helped millions of people perfect their drawing skills. It can work for you, too. ...Show more
Items per page:
1 - 8 of 8