The Encircling Sea (#2 Vindolanda)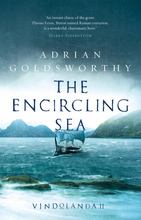 Stock information
: $22

.99

(NZD)

: 9781784978181
: Head of Zeus
: Head of Zeus
:
:
: September 2018
: ---length:- '8'width:- '5'units:- Inches
:
: 22.99
:
:
:
: books
:
:
:
:
:
:
:
:
: 400
: Adrian Goldsworthy
:
: 823.92
: English
:
:
: Paperback
: Vindolanda Ser.
9781784978181
Local Description
~ Immediately after taking office in 98 AD, the emperor Trajan moved to quell the many and various rebellions on the borders of empire. In the case of Britannia, the northern frontier was particularly difficult. Druid priests were fermenting discord in the north, encouraging tribal chiefs to unite and rebel as one.
The Roman garrison at Vindolanda (modern day Carvoran), is both outnumbered by the barbarian tribes and a long way from Rome. In this fiction, based on actual events, the centurion charged with keeping the peace proves himself to be both charismatic and autocratic. To prevent the tribes from becoming a united force, the centurion leads his men into hostile territory. Military discipline and a code of honour meant that while they were able to win battles, they still stood to lose the war. A particular menace is the seafaring marauders known as the black ones. They come ashore at night to kill and feast on human flesh. It's all here and it's riveting reading. The author is an historian of ancient history and my impression is that he knows what he's talking about. Great stuff. Mike
Description
AD 100: Flavius Ferox, Briton and Roman centurion, is finding it hard to keep the peace. Based at Vindolanda - an army fort on the northern frontier of Britannia and the entire Roman world - he feels the eyes of his enemies on him at all hours.
Ambitious leaders sense a chance to carve out empires of their own. While men nearer at hand speak in whispers of war and the destruction of Rome.
And out at sea, ships of pirates and deserters restlessly wait for the time to launch their attack on the empire's land.